Positively uplifting and exciting news for those who own and operate a web storefront! Global consumer confidence is on the rise!
At Eging, we're here to help you in your multilingual journey for exploring opportunities to successfully eliminate global e-commerce language barriers.
Here's the scoop:
Consumer confidence increased in 37 of 60 global markets, according to the first quarter 2015 findings released in the Consumer Confidence Report.
That's a dramatic climb compared to the previous quarter, which posted an increase in only 17 of the 60 markets.
E-Retailers, I hope you're applauding!
More Consumers Are Purchasing Products and Services Online From Foreign Countries
Globalization and technology have propelled cross-border e-commerce allowing the flow of purchase transactions around the globe.
The flow of goods and services is happening from West to East and East to West. A good example of West selling to East is Alibaba.com, China's biggest online commerce company. Reverse the direction and Apple iPhone sales from China surpassed that of the U.S. during the fiscal second quarter.
According to a recent PayPal/Nielsen report, cross-border demand for online retail of American products was worth $23 billion in 2013, and is expected to grow to $83 billion by 2018!
Below are the figures of cross-border online shoppers for USA and other economies: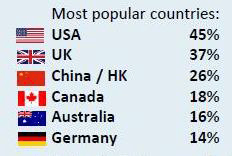 % of cross-border shoppers purchased in these markets the last year.
Cross-Border E-commerce Opportunities Differ From Market to Market
Success for e-retailers hinges on each respective country's online market potential.
The pertinent factors that determine these differences are: Technology adoption and consumer behavior, online market size, infrastructure, and the potential for growth.
Let's examine three countries:
China: The world's most populous country with an emerging middle class is very active online. Over one-third of those who go online at least once a week are continuously connected.
Online Chinese buyers have strong brand awareness for big e-commerce names like Alibaba, Tmall, Amazon, and ebay. The country is projected to exceed 600 million online buyers within a few years, and their government is pushing for cross-border e-commerce with various projects.
Mexico: Nearly half of Mexicans are connected to the Internet, and about two-thirds make purchases online. Total online sales increased 32% to $6.6 billion in 2014, and continued growth is expected in future years.
Also noteworthy, Mexico went from being unranked in the 2013 Global Retail E-Commerce Top 30 Index, to landing 17th in this year's rankings. Talk about strong growth potential!
Brazil: Average spending per Brazilian e-shopper is growing. In 2013, 80% of them indicated they purchased goods and/or services from American online shops.
How will Eging Give Your Brand a Global Reach?
We use state of the art linguistic technology to speak your clients' and customers' language. Our translation services are a great aid to capture cross-border e-commerce opportunities.
There's an abundance of untapped potential for e-retailers. As it stands right now, just 52% of all U.S-based online merchants are active in cross-border e-commerce.
However, you need to do some critical leg work.
Most certainly, you'll need to know what products and services are in most demand per region, where your potential customers are, and the specific markets to target first.
The most crucial element in your marketing material is the VOICE of your website.
You absolutely must speak the language of your target consumers through proper localization and translation of your website, product, and ecommerce platforms.
E-Retailers, we'd love to hear your story! Come and visit us at booth 1650 during IRCE (Internet Retailers Conference + Exhibition) CHICAGO, June 2–5!